As a WMECo, it's important that you understand every bill that comes through your door. Not understanding what your bill contains can lead to all kinds of other problems for you. So, here is a breakdown of the different things that you will need to understand.
Lowering your WMECo/ Eversource Bill
The first step in reducing your WEMCo electricity rate is to look at the Energy Supply rate you are paying. The EIA (U.S. Energy Information Administration) states the typical rate for electricity in the WMECo region is presently 28.10¢ per kWh. Based on this price, you could see savings as large as 48% based upon a typical home using 1,000 kWh/month.
Note: The EIA average includes all taxes, transmission and supply fees. That is the "all in" rate and includes all the utility fees and the retail electricity costs. We provide the same "all in pricing" so you get the real "apples to apples" price comparison when you??™re shopping for energy rates in Massachusetts.
1. Your Account Number. You'll need these items when you switch service
2. Your Service Address
3. Your Supply Charges (Your competitve supply cost- You can shop for a better rate)
4. Your Electricity Delivery/Utility Charges (Transmission, The "Poles and Wires" charges)
5. Your Electricity Supplier (You can shop for a better rate)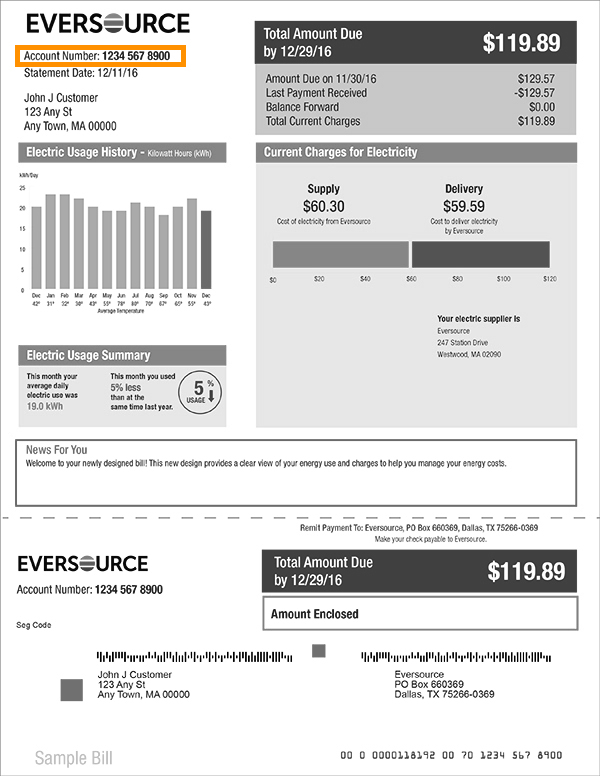 Summary
First of all, your eye should be drawn to the summary of your bill, located at the top of your page. It will all be displayed in a green box, so you won't be able to miss it. This will include the amount due, the last payment that WMECo received from you and the balance forward total. This tells you most of the important stuff, but there are important things underneath too.
Breakdown of Charges
In a blue box, underneath the summary, there will be a breakdown of the charges. It's a good idea to have a look at this because you will want to know exactly what you are paying for. There will be a supply charge and a delivery charge. These are the two charges that are added together to come to your amount due that is made clear in the summary at the top of the bill.
Personalized Energy Usage
Have you ever wondered how much energy you are using compared to this past? Well, with the personalized energy usage graph on your bill, you can see. Don't be put off by the graph because it's easy to understand. It simply displays how much energy you are using from month to month. You can also compare the amount to how much you were using at this time last year.
Amount Due
The last thing to be aware of on the first page of your bill is located near the bottom. It's the amount due, and again, it's inside a green box. In big, bold text, you will be able to see exactly how much you need to pay to WMECo. The date by which you will have to pay this amount will also be made clear, meaning there should be no confusion on your part.
Meter Readings
On the left, on the second and final page of your bill, you will find the meter readings. It will tell you your current and next meter reading date. Alongside this, a usage summary will be included. It's good to keep the bill or make a note of your next meter reading, so you know exactly when it will be. This information can be important if you have a busy schedule.
Electric Account Summary
To the right of the meter readings, you will find the electric account summary. Here, you can see your past month charges and the payment received information. So, you will know that your last payment, and the ones before it, were properly received by WMECo.
Key Contacts and Billing Information
Under the meter readings, you will find important contact details. If you need to contact someone at WMECo, this is the information you will need to use. At the bottom of the page, you will find your billing information. If there are any mistakes in your billing information, be sure to contact the company.